Ecobee Energy Management System - EB-EMS-02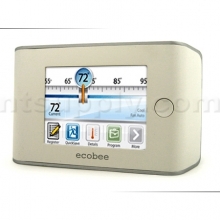 Click to Zoom
About This Thermostat
| | |
| --- | --- |
| MFG: | Ecobee |
| MFG#: | EB-EMS-02 |
| Our#: | 176766 |
| Programmable: | Yes (7 Day) |
| Stages: | 4H & 2C |
| System Compatibility: | Single Stage, Multi-Stage, Heat Pump |
| Power Options: | 24 VAC Hardwire |
| Heat/Cool Changeover: | Automatic or Manual |
| Programmable Fan: | Yes |
| Temperature Limits: | No |
| Keypad Lockout: | Yes |
| Backlight: | Yes |
| Vacation Hold: | Yes |
CLICK HERE TO SEE PRODUCT DEMO
Ecobee Energy Management System - EB-EMS-02

The ecobee Energy Management System (EMS) is the newest technology designed for the commercial market. It is ideal in applications where a simple thermostat does not provide adequate controls and functionality and a full-scale building automation system is too complex and expensive. The ecobee EMS is simple to install and program, reduces operating costs and delivers increased energy conservation.

The Ecobee Internet Energy Management System Includes:
* Ecobee Touchscreen Thermostat - to be mounted on a wall in an appropriate thermostat location
* Ecobee Equipment Interface Module - to be mounted in utility room that's near heating, cooling equipment.

How it wires together:
4-conductor thermostat wire runs from the thermostat to the Interface Module. Wiring for HVAC functions connect from Interface Module to heating, cooling equipment. Wiring for humidifier, dehumidifier, ventilation equipment also connects to Interface module. Thermostat connects via internal wireless radio to wireless home router point for internet control. Power for Equipment Interface Module provided by HVAC 24V transformer (NOTE: A Power Adaptor Is No Longer Included but can be purchased separately).
Exceed your customer's expectations

The smart choice for the smart contractor
The Ecobee EMS System allows you to run the right program at the right locations at the right time. Intelligent automation, flexible programming and remote monitoring help you conserve energy and save time and money.
Diagnostics & reports
The ecobee EMS will help you decrease truck rolls and increase profitability by making it easy to monitor your system.
Track the performance of multiple locations
Conduct remote diagnostics
Analyze system reports and assess performance, all from your web-based EMS portal.
Simple remote management
The ecobee Internet enabled EMS delivers unparalleled control by allowing you to apply changes across multiple thermostats with a single click.
Avoid costly downtime and unplanned service calls with EMS alerts and reminders
Manage an unlimited number of thermostats and users across multiple geographies.
Straight forward installation
The ecobee EMS is easy to install and program, reduces operating costs and conserves energy
Standard HVAC terminology
No CAT 5 wires to run
No firewall rules to change
SPECIFICATIONS:
Temperature set point: 45°F - 92°F (7°C - 33°C) / display: 40-100 °F (5-37 °C)
Humidity set point: OFF, 20 to 60% R.H / display: 0 - 90% R.H
dimensions
Smart Thermostat: 5.5"W x 3.25"H x 1"D
Equipment Interface: 4.6"W x 10"H x 1.3"D
ProThermostats.com Price:
$661.00
In Stock
Shipping Details
Standard: 2-7 Business Days: Free!
Shipping fees listed are for a quantity of (1)