Braeburn Model 5020 1 Heat/1 Cool Programmable Thermostat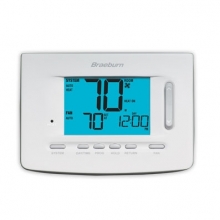 Click to Zoom
About This Thermostat
| | |
| --- | --- |
| MFG: | Braeburn |
| MFG#: | 5020 |
| Our#: | 177358 |
| Programmable: | Yes (7 Day, 5-2 Day or Non-Programmable) |
| Stages: | 1H & 1C |
| System Compatibility: | Single Stage, Millivolt, Heat Only |
| Power Options: | Battery, 24 VAC Hardwire |
| Heat/Cool Changeover: | Automatic or Manual |
| Programmable Fan: | Yes |
| Temperature Limits: | Yes |
| Keypad Lockout: | Yes |
| Backlight: | Yes |
| Vacation Hold: | Yes |
Braeburn Model 5020 1 Heat/1 Cool Programmable Thermostat
Excellent choice for property owners who need to control their heating and cooling bills!
The universal auto changeover thermostat shall be a Braeburn® model number 5020, 3.86" high x 5.11" wide x 1.42" deep, powered with either 24 Volt AC or with two "AA" Alkaline batteries (3.0 Volt DC). In the event of a power failure, the unit shall retain all user, installer and program settings. The thermostat shall be compatible with low voltage single stage gas, oil, or electric heating or cooling systems, and single stage heat pump systems. Also compatible with 250mv - 750mv millivolt heating only systems and 2 or 3 wire hydronic zone systems. The thermostat shall have a bright blue backlight display, SpeedBar®, separate sub-base and multi-level keypad lockout. Temperature control range shall be between 45° and 90° F (7° and 32° C), accuracy of +/- 1° F (+/- .5° C) and operating humidity range between 5% and 95% relative humidity. The thermostat shall include separate installer and user setup modes, permanent non-volatile memory to retain user settings, filter, UV and humidifier pad check monitor, adaptive recovery mode (ARM), programmable fan mode, residual cooling fan delay and indoor or outdoor remote sensor capability. A front reset button will return user settings to default values when pressed. This thermostat shall meet California Title 24 Guidelines.

FEATURES:

. Large 5 Sq. In. Display with Bright Blue Backlight
. 7 Day, 5-2 Day or Non-Programmable
. Programmable Fan with On or Auto Modes
. Auto or Manual Changeover
. SpeedBar Multi-Function Button
. Adaptive Recovery Mode (ARM )
. Adjustable Temperature Limits
. Indoor or Outdoor Remote Sensing
. Residential and Commercial Modes
. Temporary Override Limits
. Permanent Memory Retains Settings
. Separate User and Installer Reset Buttons
. User Selectable Service Monitors
. Hardwire or Battery Powered
. Multi-Level Keypad Lockout
. Set Point Adjustment Limits
. Compressor Short Cycle Protection
. Compatible with 2 or 3 Wire Hydronic Zone Systems
SPECIFICATIONS:

Dimensions: 3.86" x 5.11" x 1.42"
Electric Rating: 24 Volt AC (18-30 Volt AC)
1 amp maximum load per terminal
3 amp total maximum load (all terminals)
AC Power: 18-30 Volt AC
DC Power: 3.0 Volts DC
(2 "AA" Alkaline batteries included)
Compatibility: Single stage gas, oil or electric systems
Single stage heat pump systems
250mv - 750mv millivolt heating systems
Control Range: 45° to 90° F (7° to 32° C)
Display Range: 40° to 99° F (5° to 37° C)
Accuracy: +/- 1° F (+/- .5° C)
Temperature
Differential: .5°, 1°, or 2° F (0.2°, 0.5°, or 1° C)
Storage Temperature: 14° to 140° F (-10° to 60° C)
Operating Humidity: 5% to 95% Relative Humidity
Terminations: Rc, Rh, O/B/V3, Y1, W1, G, C, S1, S2
Volume Pricing
You Save
1 - 4
$-2.39 ea.
5 - 9
$-2.27 ea.
10 - 14
$-2.15 ea.
15+
$-2.03 ea.
Easy To Adjust
Easy To Install
Intuitive Controls
Precise Controls
Comments about Braeburn Model 5020 1 Heat/1 Cool Programmable Thermostat:
I have teenage girls that were constantly "adjusting" the heat and then leaving it on all night / day when it wasnt needed. This thermostat allows me to program just enough adjustment to keep everyone happy and reverts back to energy saving program in as little as one hour all at a very affordable price.