Braeburn Model 2000 1 Heat/1 Cool Programmable Thermostat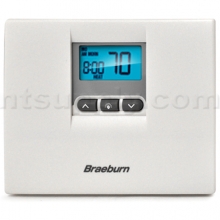 Click to Zoom
About This Thermostat
| | |
| --- | --- |
| MFG: | Braeburn |
| MFG#: | 2000 |
| Our#: | 172295 |
| Programmable: | Yes (5+2) |
| Stages: | 1H & 1C |
| System Compatibility: | Single Stage, Millivolt |
| Power Options: | Battery |
| Heat/Cool Changeover: | Manual |
| Programmable Fan: | No |
| Temperature Limits: | No |
| Keypad Lockout: | No |
| Backlight: | Yes |
| Vacation Hold: | Yes |
Braeburn Model 2000 1 Heat/1 Cool Programmable Thermostat
The digital programmable thermostat shall be a Braeburn®, model number 2000, 3.75" high x 4.94" wide x 1.19" deep, powered by two "AA" Alkaline batteries (3.0 Volt DC) with 5-2 day programming. The thermostat shall be compatible with single stage gas, oil or electric heating or cooling systems including single stage heat pumps and 250mv - 750mv millivolt heating systems. The thermostat shall have a bright blue backlight display, front loading battery door and separate sub-base for trouble free installation. Temperature control range shall be between 45° and 90° F (7° and 32° C), accuracy of +/- 1° F (+/- .5° C), humidity range between 5% and 95% relative humidity. The thermostat shall include non-volatile memory to retain user settings, filter check monitor, adaptive recovery mode (ARMT) and separate heating and cooling set point program times and temperatures. A front reset button will return user settings to default values when pressed. The thermostat can be mounted to a horizontal junction box.
FEATURES:

. 5-2 Day Separate Weekday / Weekend Programming
. Large Display with Bright Blue Backlight
. Battery Powered with Latching Relay Output
. Non-Volatile Memory to Maintain User Settings
. Filter Check Monitor
. Adaptive Recovery Mode (ARMT)
. Adjustable Temperature Differential
. ESD GuardT Electronic Circuitry
. Compressor Short Cycle Protection
. Separate Heating and Cooling Set Point Program Times and Temperatures
. Temporary Program Override for 4 Hours or UntilNext Set Point
. Programmable Extended Hold Mode
. Front Access Reset Button
. F° / C° Switch
. Gas / Electric Fan Switch
. Mount to Horizontal Box
. Easy Access Front Battery Door
. Separate O & B Terminals
. Meets ENERGY STAR® and California Title 24 Guidelines

SPECIFICATIONS:

Dimensions: 3.75" x 4.94" x 1.19"
Electric Rating: 24 Volt AC (18-30 Volt AC)
1 amp maximum load per terminal
2 amp total maximum load (all terminals)
DC Power: 3.0 Volts DC
(2 "AA" Alkaline batteries included)
Compatibility: Single stage gas, oil or electric systems
Single stage heat pump systems
250mv - 750mv millivolt heating systems
Control Range: 45° to 90° F (7° to 32° C)
Display Range: 40° to 99° F (4° to 37° C)
Accuracy: +/- 1° F (+/- .5° C)
Temperature Differential: .5°, 1°, or 2° F (.25°, .5°, or 1° C)
Storage Temperature: 14° to 140° F (-10° to 60° C)
Operating Humidity: 5% to 95% Relative Humidity
Interchangeable Sub-Base: Braeburn 1000 Non-Programmable
1 Heat / 1 Cool
Terminations: Rc, Rh, B, O, Y, W, G
Easy To Adjust
Easy To Install
Intuitive Controls
Precise Controls
Comments about Braeburn Model 2000 1 Heat/1 Cool Programmable Thermostat:
We moved into a new home with a Braeburn 1000 (Non- programmable).
We had a model 2000 in our previous home and appreciated the flexible programming feature. It was an easy replacement; simply transfer the color coded wires to the new unit and screw it onto the existing holes.
Easy To Install
Precise Controls
Comments about Braeburn Model 2000 1 Heat/1 Cool Programmable Thermostat:
Allows total control of temperature. Set it and forget it.