BAYweb Advanced Internet Thermostat Kit - Black - Multistage & Heat Pump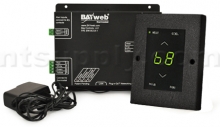 Click to Zoom
About This Thermostat
| | |
| --- | --- |
| MFG: | Bay Controls, LLC. |
| MFG#: | BW-WT2-Black |
| Our#: | 176646 |
| Programmable: | Yes (7 Day) |
| Stages: | 2H & 2C |
| System Compatibility: | Multi-Stage, Heat Pump |
| Power Options: | 24 VAC Hardwire |
| Heat/Cool Changeover: | Automatic or Manual |
| Programmable Fan: | Yes |
| Temperature Limits: | Yes |
| Keypad Lockout: | Yes |
| Backlight: | Yes |
| Vacation Hold: | Yes |



BAYweb Advanced Internet Thermostat Kit - Black - Multistage & Heat Pump. Controls single stage equipment up to 2 Heat / 2 Cool Multistage and Heat Pump equipment

Kit includes:
BW-T101 Thermostat Keypad - Black
BW-BCU4-2 Thermostat Control Module - connects with BW-T100 keypad, HVAC equipment, unlimited X10 wireless, and three wired alert inputs.
Designed to install yourself, the BAYweb Thermostat is the least expensive and most full featured Internet enabled thermostat available. Operate your thermostat anytime anywhere via web browser or web-enabled mobile phone. Unlimited use of the BAYweb portal is included at no additional charge.
This state-of-the-art portal provides real time monitoring, control, and reporting.
Applets give you the ability to easily customize your personal web portal to suit your needs, and provide the manufacturer with the ability to efficiently add new features and capabilities for the BAYweb device.
Applets are available for everything from thermostat control and energy reporting to local weather. Additional applets are continuously being created, all free for you to use.
Seamless integration with your local keypad and mobile phone, changes made on any interface will be seen and take effect within 10 seconds.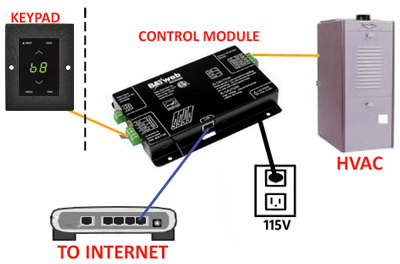 How to get started:
The BAYweb internet thermostat system uses two modules. A simple keypad is placed where the old thermostat went. The BAYweb control module is installed behind the scenes, often in the mechanical room. 4-conductor thermostat wire runs from the keypad to the control module. 4-conductor thermostat wire (or up to 8 wires on the Advanced module) runs from other side of the the control module to your HVAC system. The control module plugs into a standard 115V electrical outlet or can be powered using 24V directly from your heating and cooling equipment. A Cat5 ethernet cable runs from a LAN port on the control module to your internet router or switch.

Bay's Plug-N-GoTM networking technology enables you to utilize all of the Internet-based capabilities by simply plugging it in to your network. No network or router changes, or network experience is required.
Requires a full time broadband Internet connection. To use existing thermostat cable, at least 4 conductors are required. Exclusively for use in the United States. Temperature indicated in degrees Fahrenheit.

Setup is quick and simple. Use the Portal on BAYweb's website to set up your account. Once that is complete, setup your schedule, energy monitoring, keypad lockout, etc. on the internet from any computer with web access.

Product Features:

Alerts via email (HVAC problems, excessive energy usage, intrusion, loss of internet connectivity)
Keypad Lockout
Setpoint Limiting
Circulation Fan Mode
Auto-Changeover
Local Weather Display
X-10 wireless protocol compatibility
Door entry sensing (with optional sensor)
Wired alert input - one input included on standard kit, three included on advanced kit
Energy useage and cost reporting
5-Year Warranty
HVAC Terminals - W2, Y2, O, B, Rc, Rh, R, W, G, Y, C, C

CLICK HERE TO READ FREQUENTLY ASKED QUESTIONS
ProThermostats.com Price:
$220.00
Regular
$240.00
,
You Save $20.00 (8%)
In Stock
Shipping Details
Standard: 2-7 Business Days: Free!
Shipping fees listed are for a quantity of (1)