Aprilaire Model 8800 Communicating Touchscreen Thermostat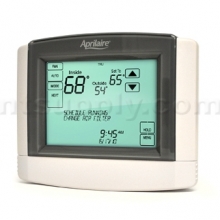 Click to Zoom
About This Thermostat
| | |
| --- | --- |
| MFG: | Aprilaire |
| MFG#: | 8800 |
| Our#: | 176964 |
| Programmable: | Yes (7-Day, 5+1+1, 5+2) |
| Stages: | 4H & 2C |
| System Compatibility: | Multi-Stage, Heat Pump, Single Stage |
| Power Options: | 24 VAC Hardwire, Battery |
| Heat/Cool Changeover: | Automatic or Manual |
| Programmable Fan: | Yes |
| Temperature Limits: | No |
| Keypad Lockout: | Yes |
| Backlight: | Yes |
| Vacation Hold: | Yes |
Aprilaire Model 8800 Communicating Touchscreen Thermostat

The Model 8800 is a "smart" thermostat designed for today's smart homes. The "smarts" the thermostat posses is an open communications protocol that allows for a home automation system to control the thermostats remotely. This adds convenience for the homeowner by controlling multiple systems, HVAC included, from their touch screens, smart phones and tablets.

FEATURES:

INSTALLATION:

Optional temperature and relative humidity support modules for elaborate applications
Dual fuel operation (lockout of heat pump w/ call for back-up fossil fuel heat)
Commercial and residential applications (2 or 4 events per day)
Remote indoor sensor option w/ 8051/8053 sensors
Temperature offset ± 8°
Integrated dual fuel kit w/ high and low balance point control (requires 8052 sensor)
Geothermal water to water friendly - B & O de-energize in the off mode to prevent unnecessary heating and cooling of the buffer tank
2H/2C Conventional and 4H/2C Heat Pump
Universal Thermostat - One stat fits all applications
Configurable manual heat/cool or auto changeover modes
Configurable heating and cooling, heating only or cooling only operation
Direct connect an outdoor and indoor sensor
On board Relative Humidity sensor
Configurable to control humidifier and dehumidifier
Large, easy-to-wire terminal block
Adjustable differential for 1st, 2nd, 3rd and 4th stages

OPERATION:

Maintenance reminders - Humidifier, air filter, dehumidifier, HVAC
Global reports outdoor temperature to all thermostats on the network
Circulate fan mode
Programmable fan
Progressive recovery
Built-in equipment protection
Equipment stage indication
High and low setpoint temperature limits
Five year warranty
"Copy" function for quick and easy programming
Multiple hold options maximizes comfort and energy savings
- Vacation hold
- Customizable timed hold
- Permanent hold
Real time clock automatically adjusts for daylight savings time
Permanent memory - programming and date isn't lost during a power outage
Battery back up maintains clock

SCREEN:

Large 10.3 sq. in. touch screen
Large font size
Fully back lit w/ constant low intensity light option
Exclusive message center (provides feedback and real language instructions)
Displays outdoor temp (w/ optional 8052 sensor)
Real language programming/set up - no manual needed
Full or limited screen lockout

SPECIFICATIONS:
4 15/16" High x 6" Wide x 1 5/16" Deep
Control range: 45º to 99ºF (7º to 32ºC)
Display range: 32º to 99ºF (0º to 40ºC)
Accuracy: ± 1ºF (± .5ºC)
Storage temperature: -30º to 140ºF (-34.4º to 60ºC)
Operating humidity: 5% to 90% relative humidity
Operating ambient temperature: 32º to 120ºF (0º to 48.9ºC)
24 VAC (18-30 VAC)
1 amp maximum load per terminal
2.5 amp total maximum load (all terminals)
AC Power: 18-30 Volt AC
DC Power: 3.0 Volts DC (2 "AA" Alkaline batteries included)
Standard systems gas, oil, electric
Single stage/heat pump/multi-stage
Terminal Designations: Rc, R, W, Y, G, C, S1, S2, O, B, L, W2, Y2, T1, T2, C, B, O, Y, Y2, G, RC, R, W2, WL, S2, S1, T1, T2, A-, B-, A+, B+, RSA, RSB

ProThermostats.com Price:
$279.95
In Stock
Shipping Details
Standard: 2-7 Business Days: Free!
Shipping fees listed are for a quantity of (1)