Aprilaire 8710 Wireless Programmable Thermostat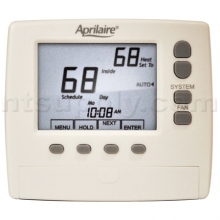 Click to Zoom
About This Thermostat
| | |
| --- | --- |
| MFG: | Aprilaire |
| MFG#: | 8710 |
| Our#: | 177128 |
| Programmable: | Yes (7-day) |
| Stages: | 3H & 2C |
| System Compatibility: | Single Stage, Multi-Stage, Heat Pump |
| Power Options: | 24 VAC Hardwire |
| Heat/Cool Changeover: | Automatic or Manual |
| Programmable Fan: | No |
| Temperature Limits: | Yes |
| Keypad Lockout: | No |
| Backlight: | Yes |
| Vacation Hold: | No |
Aprilaire 8710 Wireless Programmable Thermostat


The Model 8710 is Aprilaire's ?rst wireless thermostat. Wireless thermostats offer the ultimate in installation ?exibility in zoning applications or when an HVAC upgrade would require additional wires to be run through the walls. The 8710 is a two piece system comprised of the Thermostat and the Control Module. Control module must be wired with 24V "common" wire to provide power.
FEATURES:
Wireless control up to 100' transmission range
Universal Thermostat (Single Stage or Multi-Stage,Heat Pump or Heat/Cool, 3 Heat/2 Cool, 2 Heat/2 Cool)
7 Day Programmable, 4 Events/Day or Non-programmable
Copy function for easy schedule programming
Temporary and Permanent Hold
Auto changeover
Built-in dual fuel operation
Adjustable differential for all stages
Optional staging based on time
Backlight Display
Installer-settable maximum heating and minimum cooling set-point temperatures
Adjustable compressor minimum on/off times
Control Module has multi-color LED to indicate type of HVAC call and communication status
Easy addressing function allows multiple 8710 thermostats to be used in the same location
Wireless 915MHz proprietary protocol with up to 100' transmission range.
Easy access, front-loading battery compartment. Requires only 2 AA batteries.
Configurable setpoint limits
5 Year Warranty
Made in USA
SPECIFICATIONS:
System Compatibility - Single stage, multi-stage and heat pump (3 heat / 2 cool)
Power Terminals - C, R (24V required for receiver)
Output Terminals - W1/B, O, W2/E, Y1, Y2, G
Fan Operation - Gas or Electric
LED Indicator on Receiver - Multicolor indicates heating, cooling, and fan calls
Communication - Wireless, 915MHz, proprietary protocol
Range - Up to 100 feet
Control Module Power - 24VAC, 2.4VA
Control Module Dimensions - 5.09 x 2.65 x 1.10 inches (WHD)
Thermostat Dimensions - 5.00 x 4.50 x 1.10 inches (WHD)
Easy To Adjust
Easy To Install
Comments about Aprilaire 8710 Wireless Programmable Thermostat:
I purchased this wireless programmable thermostat to replace my existing 2nd floor thermostat and provide more consistent room temperature in my master bedroom which is located on the 2nd floor. The existing 2nd floor wired thermostat was installed in a 2nd floor guest bedroom that is close to the main stairway, so heat from the 1st floor HVAC was affecting this thermostat. In addition, the master bedroom faces northwest and becomes colder (especially if the door is closed) than the guest bedroom (with the thermostat) in the winter.

I wanted a wireless thermostat so that I didn't have to run wires to the master bedrrom and so that I could experiment and then choose the best wall location in the master bedroom for controlling temperature.

A friend who is an HVAC professional helped me to install this wireless thermostat in my home. It was easy to install, however the instructions could be more clear with regard to control unit connection terminals (C,R,G,Y2,Y1,W2,O,W1). For homeowners who are not HVAC professionals, the standard wire colors coming from your furnace are Red = 24v power(connect to R terminal), Green = Fan (connect to G terminal), Blue = Cooling (connect to Y1 terminal for single stage cooling), White = Heat (connect to W1 terminal for single stage heat) and C is for common or ground. I believe these color codes may be standard for HVAC professionals.

The control unit is installed (2 screws or double-sided tape) to the HVAC unit and the 5 wires from the HVAC unit are stripped and screwed into the correct terminals on the control unit. After pairing the control unit with the wireless thermostat (press and hold buttons on control unit and thermostat), setting the installer options (software on the thermostat), and programming the wireless thermostat (I just set it at hold 70 degrees to test), install is complete. This job only took about 45 minutes including testing the heat and cooling.

After a little experimenting with temperature settings and different locations for the thermostat in the master bedroom, I am very pleased with the results. Temperature in the master bedrrom is consistent and more comfortable due to the new location in the master bedroom. I choose this wireless thermostat simply because I have used Aprilaire products and the 2 wired thermostats in my home are Aprilaire. I left the old wired thermostat on the wall of the guest bedrrom just in case the wireless unit fails, I can quicly reconnect the wires at the HVAC unit to restore the old thermostat operation.
Easy To Adjust
Easy To Install
Intuitive Controls
Precise Controls
Confusing Controls
Hard To Read Display
Temperature Doesn't Hold
Central Controls
Homes
Large Rooms
Offices
Small Rooms
Comments about Aprilaire 8710 Wireless Programmable Thermostat:
very good, very best item i had used for years, like 45.