Aprilaire 8710 Wireless Programmable Thermostat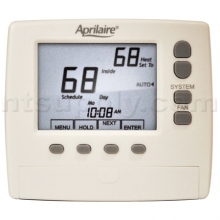 Click to Zoom
About This Thermostat
| | |
| --- | --- |
| MFG: | Aprilaire |
| MFG#: | 8710 |
| Our#: | 177128 |
| Programmable: | Yes (7-day) |
| Stages: | 3H & 2C |
| System Compatibility: | Single Stage, Multi-Stage, Heat Pump |
| Power Options: | 24 VAC Hardwire |
| Heat/Cool Changeover: | Automatic or Manual |
| Programmable Fan: | No |
| Temperature Limits: | Yes |
| Keypad Lockout: | No |
| Backlight: | Yes |
| Vacation Hold: | No |
Aprilaire 8710 Wireless Programmable Thermostat


The Model 8710 is Aprilaire's ?rst wireless thermostat. Wireless thermostats offer the ultimate in installation ?exibility in zoning applications or when an HVAC upgrade would require additional wires to be run through the walls. The 8710 is a two piece system comprised of the Thermostat and the Control Module. Control module must be wired with 24V "common" wire to provide power.
FEATURES:
Wireless control up to 100' transmission range
Universal Thermostat (Single Stage or Multi-Stage,Heat Pump or Heat/Cool, 3 Heat/2 Cool, 2 Heat/2 Cool)
7 Day Programmable, 4 Events/Day or Non-programmable
Copy function for easy schedule programming
Temporary and Permanent Hold
Auto changeover
Built-in dual fuel operation
Adjustable differential for all stages
Optional staging based on time
Backlight Display
Installer-settable maximum heating and minimum cooling set-point temperatures
Adjustable compressor minimum on/off times
Control Module has multi-color LED to indicate type of HVAC call and communication status
Easy addressing function allows multiple 8710 thermostats to be used in the same location
Wireless 915MHz proprietary protocol with up to 100' transmission range.
Easy access, front-loading battery compartment. Requires only 2 AA batteries.
Configurable setpoint limits
5 Year Warranty
Made in USA
SPECIFICATIONS:
System Compatibility - Single stage, multi-stage and heat pump (3 heat / 2 cool)
Power Terminals - C, R (24V required for receiver)
Output Terminals - W1/B, O, W2/E, Y1, Y2, G
Fan Operation - Gas or Electric
LED Indicator on Receiver - Multicolor indicates heating, cooling, and fan calls
Communication - Wireless, 915MHz, proprietary protocol
Range - Up to 100 feet
Control Module Power - 24VAC, 2.4VA
Control Module Dimensions - 5.09 x 2.65 x 1.10 inches (WHD)
Thermostat Dimensions - 5.00 x 4.50 x 1.10 inches (WHD)

Merchant Services
ProThermostats.com Price:
$209.95
In Stock
Standard: 2-7 Business Days: Free!
Shipping fees listed are for a quantity of (1)