Why Braeburn is the Best Landlord Thermostat Option
Posted 9/13/2013
Choose Braeburn
Braeburn thermostats are a great option for landlords and property managers of "all utilities paid" apartments. These thermostats are an economical choice that provides landlords with the potential to save a decent chunk of money on utility bills. The need for creating high and low setpoints in your tenants' thermostats is understandable considering utility costs are typically one of the largest variable expenses in property ownership. Most landlords know their tenants can easily adjust the temperature to any temperature they want because they have no vested interest in saving them money.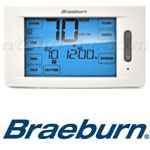 While many thermostats offer a setpoint limiting feature, we personally recommend the Braeburn line-up of products. Why? The limiting feature on these thermostats is essentially tamper proof. Even though it's quite simple to set up setpoint limiting on the Braeburn thermostats, it's extremely unlikely tenants would EVER figure out how to disable the feature.
We won't go into details for obvious reasons, but trust us when we say these thermostats are extremely effective. Unlike other manufacturers, Braeburn does not publish any written instructions on their limiting feature. This means crafty tenants won't be able to "Google" their way to dismantling the limits. Another great feature is YOU get to choose the set points and can give tenants control of the thermostat up to the limits you've established, but they can never exceed them.
Ineffective Common Solutions
Rising energy costs have motivated most everyone (not just landlords) to try and minimize their heating and cooling costs. The potential to save money on heating and cooling costs is quite appealing, especially since these systems consume 46 percent of the energy used in most homes.
Some common solutions that don't always work:
a. Tenants just rip them off the wall.
b. They can use paperclips and other things to adjust the temperature.
2) Don't Touch Signs:
a. These signs only make you feel better because everyone else just ignores them.
3) Thermostats with Keypad Lockout Feature:
a. Often the secret code has to be changed EVERY time the thermostat is unlocked. Talk about a pain.
b. Many keypad lockout features can be disabled by simply using the reset button on the thermostat or removing the batteries.
c. When tenants are completely locked out of their thermostats they may feel animosity toward the property owner.
How will Braeburn thermostats help me lower my utility costs?
We offer a wide variety of Braeburn thermostats the electronic range stop feature. If you'd like to learn more about electronic range stop thermostats, check out our article for more information . Braeburn thermostats are both reliable and affordable. Most models have a two-step limiting process to ensure temp limits will stay in effect. Braeburn thermostats with the electronic range feature cannot be disabled by pressing the "reset" button or removing the batteries.
Here are some of the Braeburn thermostats we recommend to help you save money:
v Braeburn Tamper-Proof 1020NC - This NEW thermostat takes setpoint limiting to the next level. A two-step process locks the thermostat down for both heating and cooling. It is very unlikely tenants will figure out how to dismantle the setpoint limiting!
v Braeburn Tamper-Proof 1025NC - Same as the 1020NC, but for heat-only systems.
v Braeburn Tamper-Proof 1220NC - Same features as the 1020NC, but for Multi-Stage or Heat Pump systems.

v Braeburn Tamper-Proof 2020NC - This thermostat has the same great limiting features for heating and cooling as the others, but also features a programmable schedule. If used as directed, programmable thermostats can save up to 33% on annual heating and cooling costs.
These types of thermostats can be used in:
· Residential Apartments
· HUD Section 8 Apartments
· Vacation Homes
· Commercial Office Space
· Churches & Community Centers
· Hotel & Conference Centers
What's holding you back from saving money on your energy bills? We sincerely hope your answer is, "Nothing." Buy a Braeburn thermostat and start saving money today!