Thermostat Owners Manuals
Posted 12/2/2009
HAVE YOU LOST YOUR OWNERS MANUAL?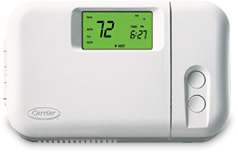 It's frustrating when you lose your thermostat documentation. Without the owner's manual you may not know how to get the most out of the various functions and features of your thermostat. Don't worry though because we're here to help! A little further down you'll find we've posted the owner's manuals and installation guides for the thermostats we sell on our website. You might try visiting the manufacturer's website if your thermostat is not listed here.
Click the links below to find your owner's manual.
APRILAIRE:

CLICK HERE TO SEE DOCUMENTATION ON APRILAIRE THERMOSTATS

BRAEBURN:

CLICK HERE TO SEE DOCUMENTATION ON BRAEBURN THERMOSTATS


CARRIER:

CLICK HERE TO SEE DOCUMENTATION ON CARRIER THERMOSTATS

CTC:

CLICK HERE TO SEE DOCUMENTATION ON CTC THERMOSTATS

HONEYWELL:

CLICK HERE FOR DOCUMENTATION ON MOST OLDER HONEYWELL THERMOSTATS - Enter your model number in the "Product Search" field.

CLICK HERE TO SEE DOCUMENTATION ON "RTH" RETAIL THERMOSTATS FROM HONEYWELL

HUNTER:

CLICK HERE TO SEE DOCUMENTATION ON HUNTER THERMOSTATS

LUX / LUXPRO:

CLICK HERE TO SEE DOCUMENTATION ON LUX RETAIL THERMOSTATS

CLICK HERE TO SEE DOCUMENTATION ON LUXPRO THERMOSTATS

RITE TEMP:

CLICK HERE TO SEE INFO ON RITE TEMP THERMOSTATS

ROBERTSHAW / MAPLECHASE:

CLICK HERE TO SEE DOCUMENTATION ON ROBERTSHAW THERMOSTATS

TOTALINE:

CLICK HERE TO SEE DOCUMENTATION ON TOTALINE THERMOSTATS

TRANE:

CLICK HERE TO SEE DOCUMENATION ON TRANE THERMOSTATS

VENSTAR:

CLICK HERE TO SEE DOCUMENTATION ON VENSTAR THERMOSTATS

WHITE-RODGERS / EMERSON:

CLICK HERE TO SEE DOCUMENTATION FOR NEW AND LEGACY THERMOSTATS FROM WHITE-RODGERS