Double-Pole & Single Pole Thermostats
Posted 5/26/2010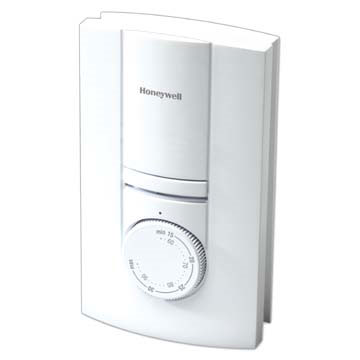 What is the difference between a single pole and a double pole thermostat?

Single pole thermostats break only one side of the power line to your heater and cannot be turned off. Therefore, power supply to the heater is continuous even if it's not running. The control knob will have a low temperature setting without an "off" position. Single pole thermostats use only two wires. This means even if the temperature dial is turned all the way down, voltage is still going into the heater through one line. This may pose a hazard to anyone who might perform electrical work on the heater without realizing the circuit was still on. You will need to turn off the power at the circuit breaker before electrical repairs can be made safely.

Double pole thermostats break both sides of the power line, which means all power to the heater is interrupted. This acts as a safeguard for people performing electrical work on the heater. Before making any electrical repairs you should ALWAYS turn off the power at the circuit breaker not at the thermostat. A double pole uses four wires and has an "off" position on the thermostat.
Since they are inherently safer, double pole thermostats are widely preferred and may be required by code. Another advantage of a double pole thermostat is you can turn it completely off and the heat will not come on no matter how cold your room gets. With a single pole unit the thermostat will turn the heat on even if it's set on the lowest setting.
CHECK YOUR LOCAL CODES FOR BUILDING REQUIREMENTS WHEN DETERMINING IF YOU NEED A SINGLE OR DOUBLE-POLE THERMOSTAT BEFORE PURCHASING OR INSTALLING.