Control your HVAC Over the Internet!
Posted 11/24/2009
VIEW OUR INSTALLATION VIDEO:
Control your HVAC Over the Internet With BAYweb Internet Thermostats!

We now offer the Basic and Advanced versions of the BAYweb Internet thermostats. The BAYweb thermostat is an elegant, easy-to-install solution for controlling your heating and cooling system from any computer in the world with Internet access. Designed to install yourself, the BAYweb Thermostat is the least expensive and most full featured Internet enabled thermostat available.

How it works:

The BAYweb system comes as two components. The first component is a simple keypad, which offers basic thermostat functions such as displaying the temperature in the room, turning the temp setpoint up or down, and switching the system fan between auto and on. The second component is the BAYweb control module. This module makes a connection been the thermostat keypad, the HVAC equipment, any optional occupancy sensors or alarms, and the Internet. The BAYweb module is usually located on the wall near your router OR on the wall in your furnace room.
BAYweb breaks their system into two pieces in an effort to keep things simple and straightforward at the keypad. It also uses their web interface for set-up and advanced features.
BAYweb solution components: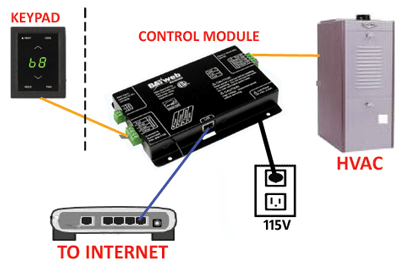 Is it difficult to set up the BAYweb internet thermostat?

Nope, it's easy. Bay's Plug-N-GoT networking technology allows you to utilize all of its Internet-based capabilities by simply plugging it into your network. No network or router changes are necessary. You don't even have to know much about networks.

Once you have your system wired up and ready to go you just register your product on the BAYweb website and create a secure account. When you log in you gain access to your own personal web portal where you can set up your thermostat.
Here are some of the innovative features you can customize via the web portal:
-Alerts Via Email - You'll be alerted of HVAC problems, excessive energy usage, intrusion, loss of Internet connectivity, high and low temp by the BAYweb thermostat through emails when these alert conditions occur. Maximum alert intervals can be customized so your inbox doesn't get overloaded.

-Keypad Lockout and Setpoint Limiting - This is a great feature for landlords and rental managers. The keypad lockout prevents any changes from being made on the thermostat keypad, while setpoint limiting "locks down" a maximum heating setpoint and minimum cooling setpoint.

-Auto-Changeover - Thermostat switches from heating to cooling and vice versa without manual intervention.

-Programmable Fan - You can specify the amount of hourly runtime for system fan, even when there's no call for heating and cooling. This feature provides improved air circulation for more efficient central air cleaning when you do not want the fan running continuously.

-Local Weather Display - With this feature you're able to view the outdoor temperature and weather conditions at your home or vacation home at a glance. The BAYweb thermostat pulls data from local airports and eliminates the need for running sensor wires. Best of all, it's completely customized by you!

-X-10 Wireless Protocol Compatibility - You can configure wireless occupancy sensors or other devices to send alerts to the control module and notify you via email.

-Occupancy Sensing (with optional wireless sensor or wired sensor of your choice) - This awesome feature allows for effortless energy savings! If no occupancy is sensed within a set interval, then the thermostat will revert to "set back schedule" to save money when you aren't home.

-Wired Alert Input - There is one input included on the standard kit and three are included on the advanced kit. The sky's the limit on what can be done with these. The control module offers configurable wire inputs, which require normally closed or normally open dry contacts. Use these additional inputs for wired occupancy sensors, sump pump sensors, wired door contacts, wired smoke detectors, water sensors, or anything else you may choose.

-Energy Monitoring - The BAYweb thermostat provides comprehensive energy management reporting, analysis, and alerting functions previously only found in expensive and complex building management systems available to large commercial and industrial customers.
Web Portal Main Control Screen Shots: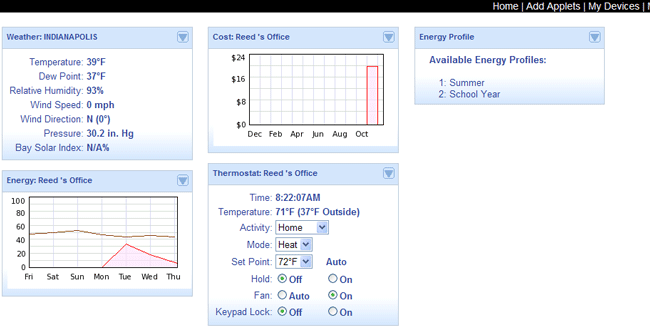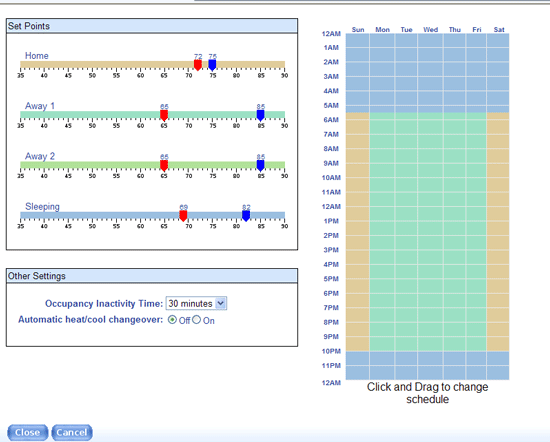 CLICK HERE TO READ FREQUENTLY ASKED QUESTIONS